No team will go to Pakistan now and few would volunteer to tour Sri Lanka, India or Bangladesh either
In the 15 minutes it took 14 armed men to arrive in Gulberg and pepper with grenades, a rocket launcher and bullets from AK47s the convoy carrying the Sri Lanka team, match officials, and, lest we forget since they gave their lives, Pakistan police and the drivers of the vehicles, they may have managed to undermine, perhaps terminally, certainly for the foreseeable future, the multibillion-dollar foundations of cricket on the subcontinent.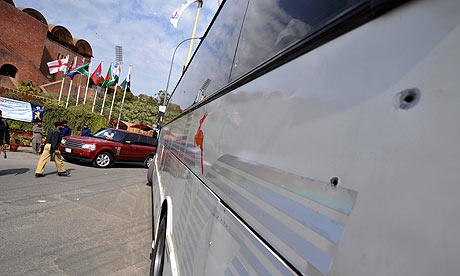 Sports teams, cricket teams mostly because of their relationship with the subcontinent, have been caught up in terrorist attacks before, in Sri Lanka and Pakistan in particular, but they have been inadvertent misadventures. Hitherto, though, it is only the Israeli athletes in Munich's Olympic village in 1972 who have been deliberately singled out. Sport, specifically cricket, has been immune, the rationale being that any sympathy there may be for the terrorist cause would dissipate in an instant such is the importance of the game.

Imran Khan, the great Pakistan cricketer and now a political figure, has said as much on numerous occasions, most recently in the aftermath of the Mumbai atrocities late last year. Few seemed to doubt him. Now that has gone. If the small band of men with backpacks and weaponry have sought to destabilise the Pakistan government, which is seen as allying itself too closely to the west, then it is cricket that has been destabilised more, for cricket does not have the resource, or the brief, to fight terrorism. The rules of engagement have changed. Cricket can never be the same again.

This attack bore all the hallmarks of last November's on Mumbai's people, the Taj Palace hotel and other buildings in the city. It is this connection that leads to fear for the future of the game in a region that claims, with good cause, to be the power centre. That attack was indiscriminate, targeting the place rather than distinct groups. It showed the capacity of this Pakistan terror cell to operate outside its own borders. Yesterday's tragedy was not targeting the Sri Lanka team specifically, a cricket team who because of their willingness to fulfil a fixture that others would not, just happened to be there.

That is further cause for concern for a taboo has now been broken. If Sri Lanka are attacked randomly then no team is safe in Pakistan. That much is a given. But given Mumbai, and the willingness to attack a cricket team, any team, then cricket in India can no longer be regarded as immune either. And if India, then also Bangladesh, a country in strife anyway, and Sri Lanka.

The whole of the Asian cricket bloc is under threat. It goes beyond that, though, for once a team of star players are under threat, then so are the individuals therein. The Gulberg terrorists have been given the oxygen of publicity by their deeds with no mind to public opinion. None. So what price Sachin Tendulkar now, or Mahendra Singh Dhoni? Or, for that matter, Kevin Pietersen and Andrew Flintoff, all, in a month's time, due to fulfil million-dollar contracts in the Indian Premier League?

When England's security assessors advised pulling out of the proposed Champions Trophy last October one thread of reaction suggested that there was risk-reward to consider. Would a million-dollar contract for a hypothetical Lahore Lightning tempt someone who might not go for the modest remuneration from an international tour. Workers do not man oil-rigs for minimum wage, it was argued. So the Indian Premier League, which has helped create cricket's highest ever profile, would go ahead. Clearly now that competition is deeply concerned. Suddenly Rajasthan Royals come into the terrorist equation. How will the players respond to that? Such is the vast level of income into the Indian cricket economy from the IPL that all effort will be to talk up how the show must go on.

The same would apply to the Twenty20 Champions League. But how sustainable, even in terms of manpower, would be the money-no-object level of security given to England on their return to Chennai and Mohali last December, which would be the minimum demanded now?

No team will venture to Pakistan now, but neither will they consider India, Bangladesh or Sri Lanka. The huge TV revenues that support the Board of Control for Cricket in India will have purchased no product. Sponsors will receive no exposure. If the global economy was said to be biting, then this will hit every bit as hard, if not more. The competitions of the ICC, that were set for the subcontinent, will have to be rethought. Already this year's Champions Trophy, removed from Pakistan and rescheduled for Dubai, must be in jeopardy. So too must be the 2011 World Cup, marked down for India but also Pakistan.

Relocation to a less volatile part of the world will always be a consideration, but how far do the tentacles of terrorism now reach? Not all tournaments can be played in Australia, or New Zealand, South Africa or the Caribbean. In July England hosts the World Twenty20, in which a dozen teams will participate. The level of security now demanded will be astronomical in scope and cost.

Is it reasonable to continue matches in such circumstances? Then we have the Ashes. No one should need reminding that in 2005, three days before a one-day international against Australia at Lord's, terrorists bombed the London Underground and a bus. The Gulberg shootings have raised the stakes of their business. Targets are now group specific, terrorist cells global. Sri Lanka unwittingly is the first in a new direction for their anger.

Once it was said that cricketers, in demanding presidential levels of security on the subcontinent, were over-rating their importance. That has changed. Now no cricketers, perhaps no sports people, can regard themselves as immune. It is a terrifying prospect.
Source..